Shadowess teaser, physics and more
Lately things have been hectic at work, every weekend has been filled with birthdays and I also caught a cold. In short, I've had little time to work on my hobby projects.
But fear not, progress has been done. I decided to create a teaser video, this took me two evenings and was a lot of fun. While looking for music on different free sound sites I found Buba Producer on SoundCloud. This guy creates really high quality scores and shares them freely for attribution. I think that is really cool. The only "bad" thing is that the music quality is so much higher than my video.
I also had some trouble with the compression – some walls were removed when uploading to youtube. I don't want to spend to much time on polishing the video so I will just leave it like that, and improve if I make another one in the future.
Physics
Another problem I ran into was level creation, I noticed that I needed a new game play element in order not to repeat myself. I decided to add balls that the player can push and hide in it's shadow projection. Now creating levels was easy again.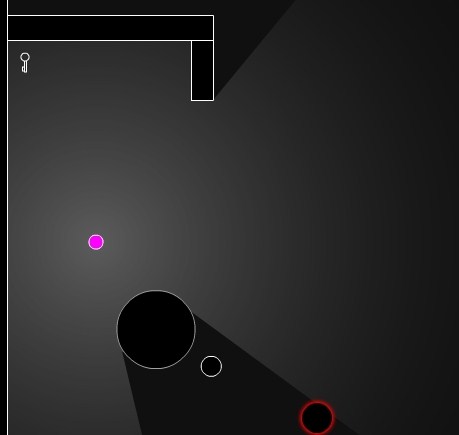 Pushing the ball to get to the key unseen.
Another idea I've is to shape up the level editor and let you guys create levels and put them into the game? This will probably mean more variation.
Play it
Use ARROWS to move. Use MOUSE to throw pebbles. Use 'R' to restart level. Be quiet. Stay in the darkness.
You will always find the latest version under the shadowess project page.